YOUR LOCAL ORAL SURGERY TEAM
Where experience
meets excellent
patient care.
Surgery Specialists for Advanced Dental Care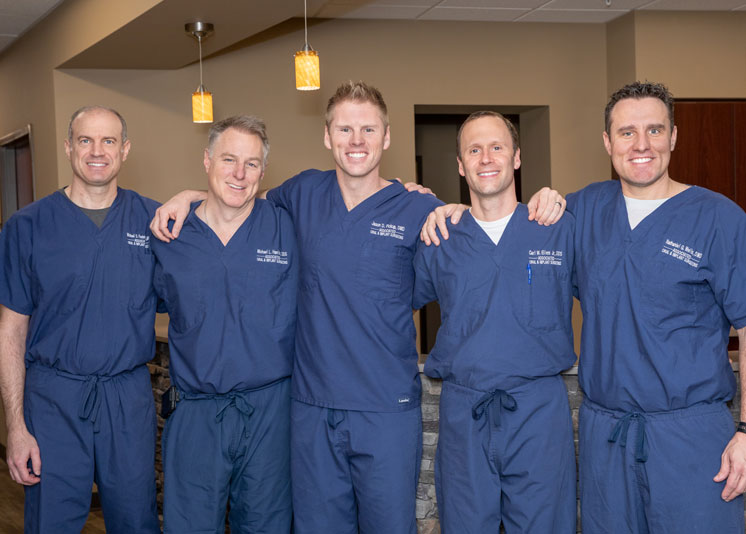 "I have super high anxiety surrounding dental visits. I was so nervous and dreaded the entire experience. However, AOIS was absolutely incredible! The office staff are so friendly, the hygienists are really welcoming, and Dr Foster could not have been nicer!  Will definitely be back!"
"Dr. Foster has done so much to help my daughter. He also has a beautiful personality and caring personality. We are beyond grateful."
"From the wonderful ladies at the front desk all the way to check out it was an amazing experience!! Dr. Pickup was SO GREAT!! Made me feel comfortable and was very understanding!! I would recommend this office to ANYBODY!"
"They were professional and fast and Dr. Wells was amazing. I would definitely recommend them and I'm planning on going back for more work."
"Dr. Wells is amazing. He went above and beyond to make sure I was taken care of. The office staff are amazing, and do everything possible to make sure you're comfortable."
We Treat Patients Like Family
Request an appointment with our oral surgeons at Associated Oral & Implant Surgeons for effective and precise tooth extractions. We walk patients through every step of the process. We follow up after surgery to ensure you are doing well. We genuinely care about your well-being and want to make sure your oral health improves following your procedure. We also provide dental implant services following an extraction procedure.
At Associated Oral & Implant Surgeons, we know how to help you. Our board-certified surgeons and expert staff can provide the care you need to relieve the discomfort you feel.
We Accept a Variety of Dental Insurance Plans
There are many providers of dental insurance, all of which offer different levels of coverage. Associated Oral & Implant Surgeons accepts all of the following insurance plans among many others.

Contact our office today to see if we accept your insurance plan.
Three Convenient
Locations
508 Princeton Road, Suite 204
Johnson City, TN 37601
(423) 915-1072
444 Clinchfield Street, Suite 305
Kingsport, TN 37660
(423) 732-7575
1 Medical Park Boulevard, Suite 440
East Bristol, TN 37620
(423) 844-6200